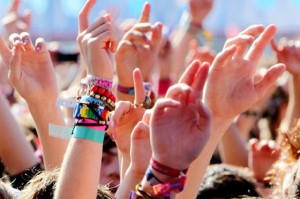 Recently I posted a rave review of my pre-opening visit to Atlanta's new College Football Hall of Fame. The venue creates fascinating interactive experiences using RFID technology supplied by Omnience partner Stark RFID.
The CFHOF was a real eye-opener for me. It vividly demonstrated how imaginative uses of RFID can engage attendees personally. Thanks to the RFID chip in my necklace badge (a.k.a "credential"), the entire venue "knew" me. Wherever I went, one piece of personal information my favorite college football team triggered another fun digital experience. For example, this one:
CFHOF is just the latest in the attractions and entertainment industry to exploit RFID's potential.  Music festivals, such as Bonnaroo, are finding great applications for the technology, too.
Event planners have long employed RFID technology for conventional applications, such as access control.  But all of us can certainly learn from the creativity we're seeing in the entertainment industry.
What are some creative ways you can integrate RFID technology into event venues to customize and enhance the attendee's experience? I looked for ideas we can "borrow" from sports and entertainment events. Here are four for your swipe file:
Track moving targets. At the Ryder Cup golf tournament next week in Scotland, fans will have RFID wristbands. They can earn prizes by walking the course and checking in at various RFID stations. The technology will track their movements, including distances covered, and post updates to social media.How you can use this technique: RFID tracking of attendees can dovetail nicely with gamification, which event planners are increasingly using to encourage interaction. Why not send attendees on a "treasure hunt"? After they've checked in at all the right stations, recognize them on the event's mobile app and send them some sort of a digital prize, such as a discount at the hotel restaurant.
Create photo opportunities. Last June, Microsoft and the Bonnaroo Music and Arts Festival in Tennessee teamed up to give festival guests a photo history of their experience. Photos of performances at various RFID stations were automatically uploaded to an attendee's Microsoft OneDrive account.How you can use this technique: Encourage attendees to their get photos taken at cool props throughout the venue—then automatically post the photos to a social media account they gave you during registration. The CFHOF uses variations of this idea throughout its venue. For example, one activity gives the attendee a digital face painting using logos and colors of his or her school. After their "game day" at CFHOF, visitors can go to a personal URL to re-live (and share) their experience with videos and photos from the various engagement activities they participated in.
Distribute interesting content. It's no secret that most printed materials handed out at conventions don't make it back with the attendee. The Food Network South Beach Wine & Food Festival solved the problem by giving attendees wristbands enabled with NFC (Near Field Communications), a "cousin" technology of RFID. By tapping their wristbands on tablet computers at each chef's station, attendees saved recipes and other information in a "digital memory bank" for online post-event access.How you can use this technique: Some events let attendees swipe their wristbands at readers next to displays of hard-copy content, such as an infographic or a white paper. Then, digital versions are automatically sent by email to those requesting the documents. Better yet: Why not combine the attendee's whereabouts, as identified by the RFID badge or wristband, with content distribution? After each session, send relevant documents, such as the speaker's presentation, to those people who were "tagged" by RFID as being session attendees.
Turn attendees into brand ambassadors. At the 2012 Zombie Pub Crawl in Minneapolis, organizers used Stark RFID's technology to keep track of 50,000 drinking, dancing and carousing zombies. By swiping their wristbands at engagement stations (see photo), event patrons could share their event experiences in real-time on Facebook.How you can use this technique: If you have a fun activity at your event, RFID can help you trumpet attendees' delight—and your brand—on social media. Create interesting kiosks or graphics that encourage engagement and simultaneously promote your event.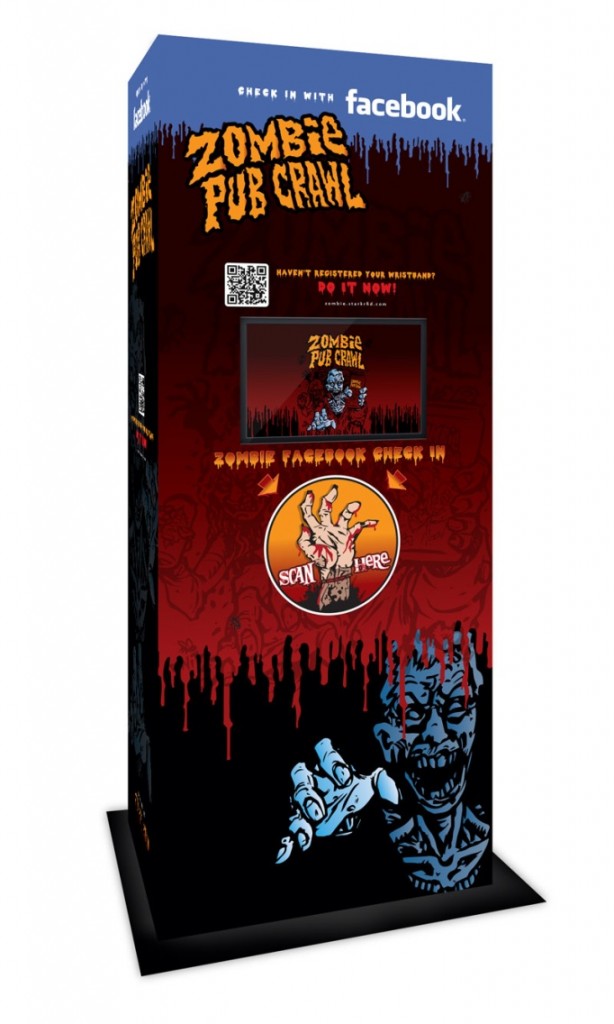 OK, there are some of my ideas for integrating RFID and NFC technology into the venues to enhance the attendee's experience.  I'd love to hear your ideas—add them as comments below!
I'll close with a challenge for event planners and sponsors:  Let's get more creative with technology at our events.  Look for unique ways to employ RFID, NFC, mobile apps, and other technologies to magnify opportunities for attendee engagement and networking.
Remember, people come to events not just to learn, but also to network.  By helping them engage with speakers, with members of your team at the event, and with other attendees, you further their goals and your goals. You'll have more opportunities to interact with the audience and receive their feedback.  And you'll gain actionable information to move forward with achieving the event's desired outcomes.